Mediterranean Grain Bowls (Panera Copycat)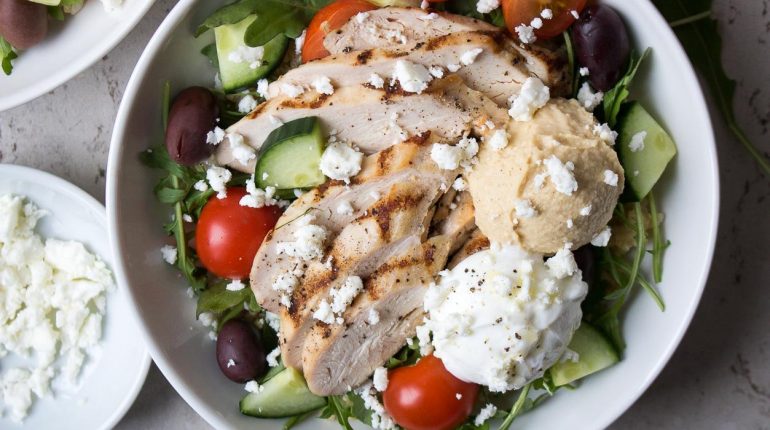 Posted October 10, 2023 by: Admin #Kitchen
Filled with wholesome grains, fresh vegetables, and nourishing fats, these Mediterranean grain bowls, inspired by Panera, provide a delightful way to elevate everyday pantry staples into a satisfying and flavorful meal. These bowls not only make for an immediate meal option but also store exceptionally well in the refrigerator, making them an excellent choice for prepping healthy weekday lunches.
Advertisement:

Create Your Panera-Style Mediterranean Grain Bowl
Crafted as a tribute to Panera's grain bowl menu, this Mediterranean grain bowl recipe offers my take on this beloved menu item.
1. Prepare the Grains: A delightful blend of cilantro-lime rice and quinoa forms the foundation of these grain bowls, bursting with flavors. While the recipe suggests using a combination of brown rice and quinoa, you can truly experiment with any grains or grain combinations that suit your palate.
2. Whisk Up the Dressing: A zesty lemon-tahini dressing not only infuses a burst of flavor but also lends a creamy texture to the bowls.
Advertisement:
3. Slice and Dice the Veggies: Staying true to the Mediterranean theme, these grain bowls feature arugula, cherry tomatoes, cucumber, and kalamata olives. However, feel free to incorporate any vegetables you prefer.
4. Grill Some Chicken (Optional): For an added protein boost, grilling chicken is a quick and effortless option to enhance your bowls.
5. Assemble the Bowls: You have the creative freedom to layer your bowls in any order you desire. Additionally, these bowls can be served hot or cold, depending on your preference.
Advertisement: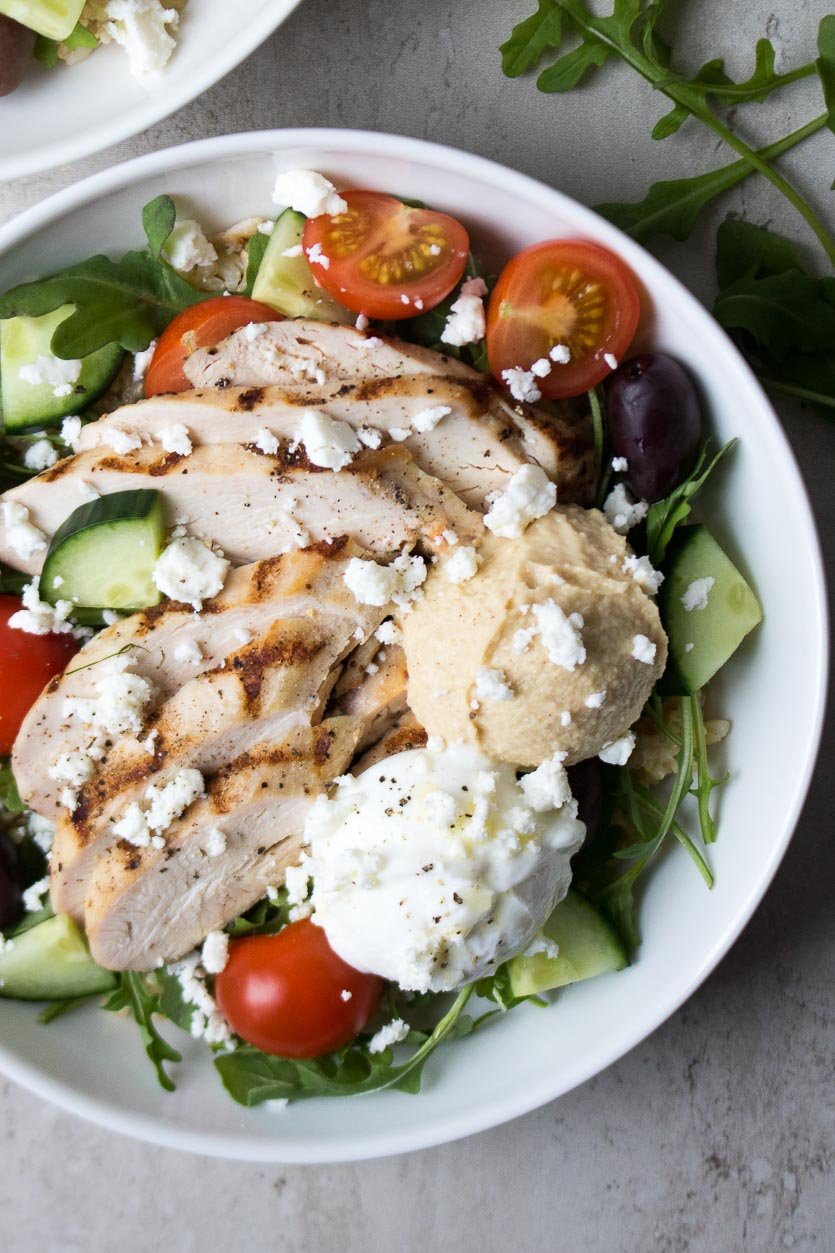 Panera-Inspired Mediterranean Grain Bowl Recipe
These grain bowls, inspired by Panera, deliver a hearty and healthy meal option, perfect for either a simple weeknight dinner or lunch. Comprising whole grains, leafy greens, vegetables, grilled chicken, hummus, yogurt, tahini dressing, and a sprinkle of feta cheese, these Mediterranean grain bowls make a wonderful addition to your repertoire of copycat recipes!
Mediterranean Grain Bowls
Inspired by Panera's restaurant menu, these Mediterranean grain bowls feature warm grains, hummus, Greek yogurt, feta cheese, and grilled chicken, creating a wholesome and satisfying meal.
Advertisement:
Ingredients
For the Bowls:
1/2 cup dry brown rice
1/4 cup dry quinoa
1 1/2 cups water
1/8 teaspoon ground coriander
Zest and juice of 1 lime
1 cup arugula
1/2 cup sliced cucumber
10 cherry tomatoes, halved
8 kalamata olives
1 oz crumbled feta cheese
2 tablespoons hummus
2 tablespoons Greek yogurt
8 oz grilled chicken (optional)
For the Dressing:
1 tablespoon tahini
1 tablespoon lemon juice
A pinch of salt
Instructions
In a small pot or saucepan, combine the brown rice, 1 cup of water, zest and juice of one lime, and ground coriander. Bring to a boil, then reduce to a simmer, cover, and cook for 25 minutes.
After 25 minutes, add quinoa and the remaining 1/2 cup of water. Stir to combine with the brown rice, cover, and continue to cook on low for 15 minutes or until the rice and quinoa are cooked and can be fluffed with a fork.
While the rice and quinoa are cooking, prepare the dressing. In a small bowl, add the tahini, lemon juice, a pinch of salt, and whisk to combine. Adjust the dressing's thickness by adding a splash of water if needed; it should be creamy but not overly thick.
Once the rice and quinoa are cooked, remove them from the heat and start assembling the bowls.
Divide the rice and quinoa mixture evenly into two bowls. Layer with arugula, cherry tomatoes, cucumber, and olives. Optionally, top each bowl with grilled chicken. Add a dollop of hummus, Greek yogurt, a sprinkle of feta cheese, and a drizzle of the dressing.
These bowls can be served immediately or stored in the fridge for up to 3 days. If preparing them in advance, it's best to add the hummus, yogurt, and dressing just before serving to maintain the freshness of the ingredients.
Nutrition
Serving Size: 1 bowl
Calories: 563 calories
Sugar: 5 grams
Fat: 17 grams
Carbohydrates: 64 grams
Fiber: 6 grams
Protein: 39 grams
NEXT: Easy Fried Chicken Isaw Recipe
Thanks for your SHARES!
Advertisement:
You May Also Like
Add a comment